COVID-19 Secure
Update July 2021
The Government has announced that the majority of Coronavirus restrictions will be lifted from Monday 19th July. As a business, we have decided that we will retain our safety measures at the current time, despite these relaxations. We hope that this will help ensure the safety of both our staff and customers, whilst also giving customer's the confidence to shop with us.
Although it is no longer a legal requirment for our customers to wear facemasks whilst shopping with us, we would be delighted if you chose to do so.
---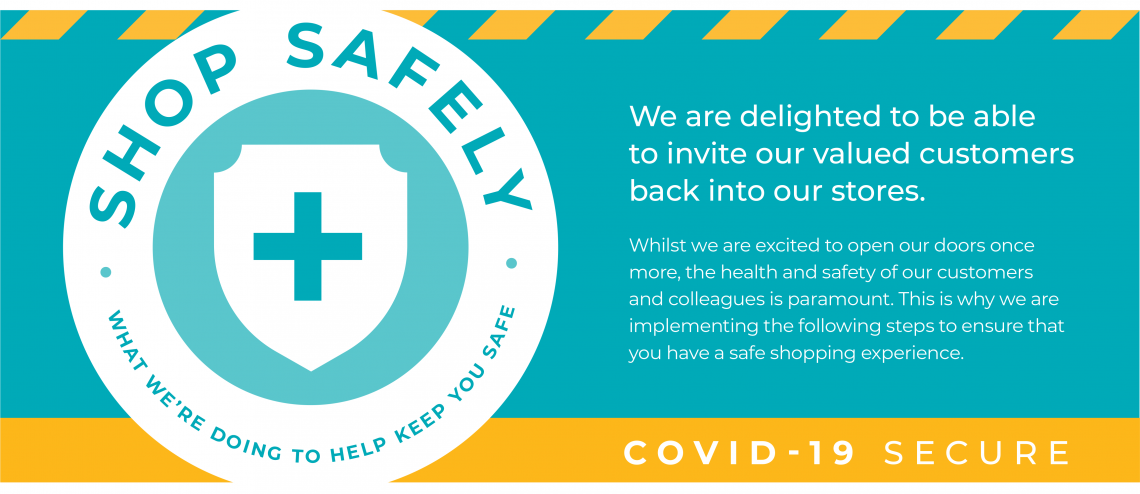 ---

---


---


---


---
Our revised delivery process
The way in which deliveries are carried out will be different following lockdown. We have had to re-assess the complete delivery process to ensure that it adheres to current social distancing guidelines. Detailed below are the changes that you can expect.
When you purchase goods, or when we contact you to advise you that the goods you ordered are ready to be delivered, we will explain how the delivery will be conducted. In particular, we will tell you what we will be doing differently and also what we expect you to do.
The most important thing is that we will never knowingly send a member of staff into your home if they are showing any symptoms of coronavirus. All staff have to confirm that they are symptom-free at the start of each working day and this is reinforced by daily temperature checks. All goods are handled in such a way so as to minimise the risk that anything being brought into your home has infected surfaces.
We will check before making a delivery that no one in your household is showing any symptoms of coronavirus, has been in contact with anyone else showing symptoms or has been told to self-isolate. We are sorry but if you answer 'yes' to any of these questions, we will not be able to complete your delivery at the current time. Goods will be stored until such a time that your household is given the all-clear and the delivery can be re-arranged.
When we deliver, we want to spend as little time in your home and touch as few surfaces, as possible. In preparation for our arrival, we will ask you to ventilate the room/s that we are delivering into, to clear any obstructions along the route that we will take through the house, to open any internal doors and if you deem it necessary, to apply any protective coverings to your floor. We would also be delighted if you chose to wear a face covering whilst our delivery staff were inside your home.
Our delivery team will call 30 minutes before they arrive, to check that no one has developed symptoms and to ensure that you have taken the steps that we have asked you to do, They will prepare for the delivery by wearing facemasks and gloves, with their hands having been sanitised. They will maintain social distancing at all times and in return, ask that you also adhere to the 2m separation rule. We will ask you to show us where the goods are being delivered, then request that you move into a different room whilst we complete the delivery. We are sorry, but for the protection of everyone involved, if our staff deem that you are not maintaining social distancing having been reminded by them to do so, they will leave you home and the delivery will not be completed.
Whilst we would prefer not to handle end-of-life goods at the current time, any items that you have requested in advance to be taken away, will be sprayed with sanitiser when we first enter the house. This provides additional protection to our staff when they handle your old goods and we are sorry, but items will not be removed, if you do not permit them to apply the sanitiser. At the current time it will not be possible for our staff to move existing items from one location to another, so this needs to be done in advance.
Unless you request to keep hold of them, all packaging materials will be removed from your home when the delivery is complete. Note that this does not apply to 'self assembly' items, which will be left in their original packaging to ensure that parts don't go missing.
In order to make the complete delivery process contactless, we will not ask you to sign that you have received your goods. We will simply take a photo showing the goods in-situ. This photo will be securely stored in line with current data protection guidelines and used for nothing other than to clarify that delivery was completed if it is ever queried. Contactless delivery also means that we will no longer be able to accept payment by cheque on delivery. All payments will need to be made either in-store, by phone, by post, or by electronic transfer, prior to delivery taking place.
---